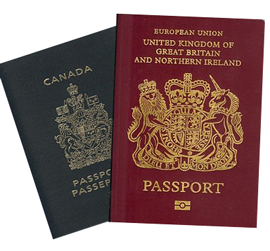 You might have heard that investing in real estate in another country, can get you second citizenship! yes..its true! Not many investors are aware that there only a few handful countries, willing to give you a permanent residence permit or directly a citizenship, upon substantial investment in the development of the country such as real estate or bringing new business.
Major benefits of getting a second citizenship is to overcome visa travel restrictions and financial safety by placing some assets offshore, outside your country to safeguard against unforeseen consequences. Let us quickly see some the countries in Europe and Caribbean offering real estate investment programs.
Portugal
Portugal has the most popular european real estate investment program aka "Golden visa". Just buy a real estate in Portugal minimum EUR 500,000 you will be given residency. After 6 years wait Portugal passport. No requirement to stay or live in Portugal under the program. For more information, please visit this website
Latvia
Latvia has the cheapest real estate option to gain residence permit. You can qualify for permanent residence in Latvia upon buying a home/apartment valued EUR 150,000 in major cities (OR) EUR 72,000 outside of major cities in Latvia. Latvia since is a EU member and Schengen country, getting permanent residence allows you travel visa free to all EU countries. Getting residence permit has minimum formalities and the process is much faster compared to other European countries. Once you have spent enough time usually 10yrs in Latvia, you will be eligible for citizenship. For more information about investing in real estate, see this website
St.Kitts & Nevis
St.Kitts has the most most popular real estate and citizenship program. You can directly get citizenship and passport upon investing a minimum of USD 350,000 a Government approved real estate project.  St Kitts passports, since it has recently entered schengen, allows you visa free travel to Europe and over 180 countries.  For more information, please see: http://www.stkitts-citizenship.com
Cyprus
Foreign and non EU citizens,  may apply to obtain an Immigration Permit under retiree and pensioners scheme, upon purchase of real estate property worth a atleast EUR 300'000.  To qualify further, annual income must be atleast EUR 20'000 per year and the income should be brought from foreign country and deposited in Cyprus bank account. No work or employment allowed.
Seychelles
Seychelles with its beatiful island beaches and spectacular ocean view is home for rarest life forms on earth. Foreign nationals buying a real estate property such as villas, apartment or maison in Seychelles, automatically qualify for residence permit in Sechelles. Upto 6 dependent persons with spouse, children can apply for residence permit. The real estate prices are very high and starts from USD 400'000. The prices of villas come around USD 600'000 and for maisons around USD 1 million.
Bahamas
Bahamas have a "economic investment program" to foreign nationals where a permanent residence is given to on the basis of minimum investment of USD 500'000, upon purchasing a residence (a home or condominium) in Bahamas. The permanent residence grants the investor right to live and work in Bahamas.
Panama
Panama has an investment scheme for foreigners where upon investing US$ 60,000 in a agriculture/reforestation project, you gain temporary residence. Permanent residency is given to individuals who invest US$ 350,000 or more in real estate projects.
Keep in mind that main difference between Latvia and St.Kitts is Latvia does not allow holding dual citizenship, while St.Kitts has no restrictions on dual nationalities.
Although not all countries directly offer citizenship, for example  Latvia, the path to citizenship is getting a "permanent residence". Once you spend about 7-10 years of residence, you are eligible to apply for citizenship.
For more information, please visit our main website: http://www.best-citizenships.com. We can assist you with real estate purchasing in Latvia, Czech Republic, Seychelles, Latvia and St.Kitts.

Similar Posts:
Tags: real estate investment