I had few troubles implementing facebook like button in my website. Infact i got the code  from facebook in html5 and the like button never showed up.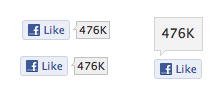 My website was built using smarty and i had to use { literal } to wrap all javascript tags. Only then it worked. Even after it showed up, it disabled the tweet count and google +1  buttons making them unclickable.
Keep in mind that when you implement facebook like in your website, make sure you add data_href value
<div data-href="http://example.com" data-send="true"
data-layout="button_count" data-width="200" data-show-faces="false"></div>
and sometimes facebook like do really need the Javascript SDK for it to work. To include the source file, just add this line.
 <script src="http://connect.facebook.net/en_US/all.js"></script>
Thats it! The like button should work without any problems. Make sure you dont miss div or any html tags.

Similar Posts: