I have always been fond of finding a suitable mobile phone for senior citizens with poor eyesight. Many aged persons lose the interest for mobile phones just because they are not comfortable to operate the mobile phone without wearing eye-glasses.
Dont forget that senior citizens also form a good consumer market. I am very disappointed that many mobile phone companies dont focus on senior citizens comfort while making a mobile phone.
Here are some the good mobile phone that are suitable for senior citizens or people having poor eye sight. The most important characteristic of a mobile phone for aged elder people is displaying the characters/fonts bigger in the display screen. It just doesnt matter either it is single or color display.
1. MotoFone F3
This phone is a very cheap $45 phone having a paper like electronic display. It shows big characters.
A good photo gallery about this phone can be found here
2. Samsung Phone
Almost all samsung phones are bit suitable for senior citizens because they have the option of changing text size.
I particulary very impressed with samsung x520phone very much suited for poor eye sighted people. It is foldable types comes with wine red color. An excellent review about this phone can be found here.
Besides this i managed to collect photographs from my digicamera just to show how comfortable it can be with available font sizes.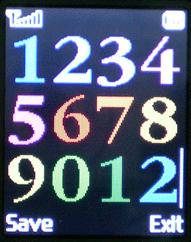 3. EmporiaLife Handset
An exclusive mobile phone built for senior citizens made by austrian company. This phone is still not available and only in production stage. You can visit the company website: www.emporia.at
Similar Posts:
Tags: mobile phone seniors