What is the video format that can give best video quality with minimum file size?
I have always faced lot of problems in uploading videos to Youtube and eveytime I upload it the video quality has been poor. Since then I always wanted a good balance between video quality and file size.
I would recommend following video formats in order to attain the the best quality video for youtube. Refer to the official Youtube recommendation. Dont forget that you can upload upto 1GB of files and widescreen size with 16:9 is well supported by Youtube.
Video Format: MP4/ MPEG/MOV/FLV
Video Codec: H.264, MPEG-2 or MPEG-4
Audio Codec: MP3 or AAC (stereo channel)

MP4 and FLV are my favorites.

Video Resolution:

640×480 (Standard high quality video with 4:3)
1290 x 720 (HD – High Definition video usually 16:9 widescreen)

Frame Rate: 25frames or better
How to create a best video for youtube?
If you want to make a youtube video, i very much recommend downloading SUPER software. It is absolutely free and it supports conversion from one video format to another. This software accomplish much of what commercial video conversion softwares does for converting video.
Which video format is best with minimum filesize and best video quality?
MP4 and FLV (flash video file). I found that both formats work very very well in youtube. I recommend them both.
Best Video Quality + Decent filesize => MP4 video with H.264 video codec and AAC LC audio code
Good Video Quality + Best Reduced filesize => FLV video
Tip: If you want still more reduced size with MP4 make sure you set the audio to mono or channel 1 as it would still reduce the file size.
Interesting Experiment with Video conversion & Results
Here is an interesting experiment i did with my sony PAL camcorder. My camcorder outputs video in raw AVI format and the size was 560MB. I converted my avi video to both mp4 and flv to see which format performs best in terms of quality and filesize. The playback is about 2.20 minutes.
MP4 – 30mb (640×480 resolution) -> Best Quality
FLV – 22mb (640×480 resolution) -> Good Quality (about 85% good quality)
Make sure you do the video conversion as shown below…
MP4 settings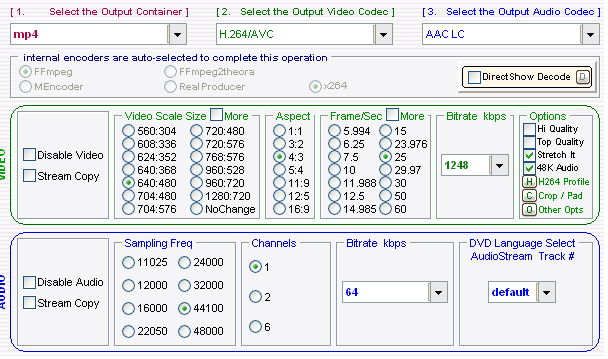 FLV Settings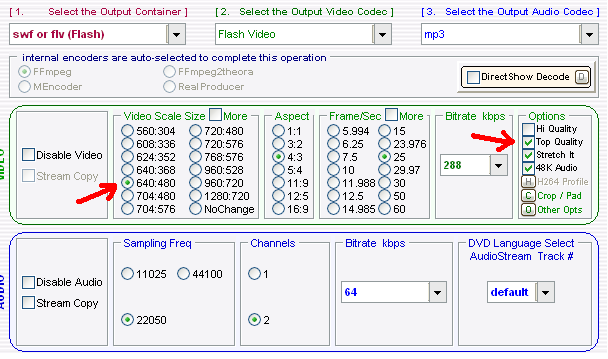 Make sure you select top quality as high quality wont be rendering a good quality video. Once the conversion is done, it shouldnt be hard to upload to youtube.
The raw video from source would the the best of the quality but its size would be huge for few minutes of video. The more you compress and do conversions the quality of the video would degrade significantly. Thats the truth about videos! any suggestions are welcome here.
Similar Posts:
Tags: youtube video format