iPad has just arrived in India and if you have purchased the 3G + wifi model, you can easily connect to Internet using a prepaid sim purchased from Airtele, vodafone, Bsnl or other. Just make sure that 3G is available with your service provider. It's easy to connect to wifi in iPad but the challenge is setting up 3G internet to your iPad with your mobile sim. Wifi though still popular in India but not available everywhere.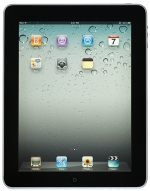 To setup your iPad connect to Internet using 3G, follow the steps…
Keep in mind that iPad only supports microsim and if you have brought ordinary simcard it will not fit through in the iPad sim slot. Otherwise you will need to cut the simcard to fit accordingly. Make sure that you activate GPRS Internet and 3G Internet in the simcard through a mobile before using on your iPad because you will not be able to send SMS or phone calls once it's in iPad
To open the simslot look for a small silver jumper attached to booklet which you should have in your box. Take it press down the small hole and the sim tray will eject. The sim tray will be on your bottom left in your iPad. Look for a hole.
Once you insert sim in your iPad it should recognise your mobile service provider all you have to do is enter APN settings in cellular data settings. For Airtel you will need to enter airtelgprs.com. Optionally to speed up Internet you can enter google DNS 8.8.8.8,8.4.4 under DNS.
That's it open your safari and you should be able to access high speed Internet using 3G. You check the data usage under about in your iPad.
Make sure you register an account with apple app store because without applications, there isn't any fun with iPad.
Similar Posts:
Tags: iPad India