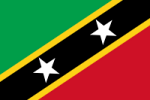 The Government of St. Kitts and Nevis has an attractive citizenship program attracting foreigners, to make a substantial contribution to the development of the country by granting citizenship for an investment amount over $200'000 or more in the country either in SIDF foundation or buying a real estate property worth atleast $350'000 or more.
The Good News:
St.Kitts is one of the very few countries which "officially" offer citizenship and passport against investment in the country.
St.Kitts passport allows visa free travel to Europe and over 120 countries including United Kingdom and Ireland.
No taxes and no residence requirements.
The Bad News:
Only few citizenships and passport will be granted under this citizenship-by-investment program by the Government.
Because St. Kitts & Nevis also has recently been added to the EU schengen list of countries whose citizens are allowed visa-free entry to the Schengen Area and Europe, the Government is likely to increase the minimum investment amount and Govt fees in the future very soon. It would be best if plan ahead accordingly.
To qualify for citizenship of St. Kitts and Nevis under its Citizenship-by-Investment Program, the Government requires either an investment in either…

Designated Govt approved Real Estate investment with a value of at least US$ 400,000 plus payment of various registration and other fees,

(or)

A non refundable contribution to the Sugar Industry Diversification Foundation (a public charity) to the amount of between US$ 250,000 for single applicant
The whole process will take about 3-5 months from the date of application and no personal visit is required.
If you are interested to apply for the program, please following the instructions on this website: http://stkitts-citizenship.com/application.htm
Similar Posts:
Tags: st kitts citizenship