Web host selection is an important aspect in web development. Similarly, when you select Magento as your e-commerce platform, you need to pay attention to the host selection aspect. While in an ordinary website, you would not need to check for anything fancy with our host provider, in Magento you would.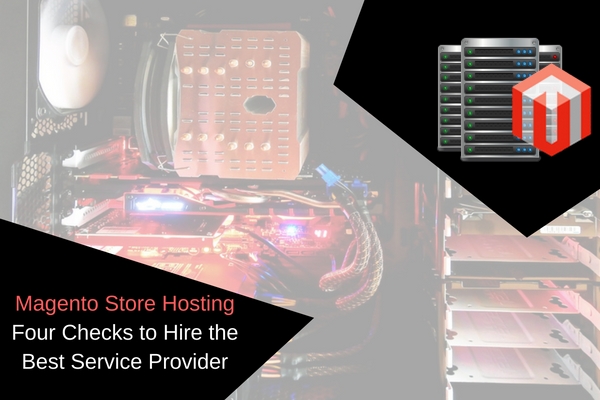 From my experience as an e-commerce site owner without biases and any commercial link-ups, I have compiled a list of few requisites that a Magento host should have. Make use of my experience and learn from my mistakes. Always perform the following checks before selecting your Magento hosting service provider.
Background Check: If you are in the e-commerce business to stay, make sure you choose reliable Magento solution partners. Magento has some set requirements in terms of server operating system and bundle. If you don't know what all that is, the best way is to check how many Magento powered store is your service provider hosting. This will help you check those stores and check the performance.
Servers and Hosting Check: A little search on the types of servers (shared and dedicated) and the types of hosting (self-managed and managed) will inform you about the available choices. Now, compare these with your requirements in the light of the following questions: Are you going to run a big store? Is your store going to cater to several countries? Do you want to include complex features? etc. and choose wisely. Another consideration in terms of servers is to look for server location because this will play a role in your search engine ranking.
Security Check: A customer who will shop on your online store will be required to submit a lot of personal details and this puts you at the vulnerable place and prone to cyber security attacks. As a store owner, you would be managing your store's security but a lot really depends on your Magento solution partners. This check includes making sure that your hosting provider is in compliance with Payment Card Industry (PCI) standards and has a Secure Socket Layer (SSL). And the more the better.
Support Check: Most of the hosting services promise an out of the world customer support. You need to be realistic and do a check here. Don't fall for the sweet promises which often break once the payment is made. If your service provider has cooperated with you so far in making you understand the abovementioned points, it has passed half of the test already but still a considerable portion is left.
Coming down to what most us (including me till sometime back) thought is the most important parameter in selecting the best service provide—Cost. While cost is directly affecting our allocated budget, paying too much attention to it can cost us big time in the future.
Therefore, if compromise is to be made, then it should be in terms of features and not the host provider. You can scale down the not-required features and request for a customized hosting plan rather than opting for a service provider who might not prove a good partner. With that note, all the best and select the best.
James Warner – Highly skilled and experienced offshore software developer at NexSoftSys. He has bright technology knowledge to develop IT business system which includes user friendly access and advanced features.