Its easy to blame the users for not finding your content engaging or your products 'Buy Savvy', but it takes real steel to realize what you are lacking and start fixing it. Everything from aesthetics, functions, navigation and user feedback contributes in creating a web design that makes up for the usability and UX your website fails to provide. Here in this article, we have compiled a list of 8 top practices for creating an exceptional web design that lights up charm for UX and serves the benchmark of usability.
1. Wise Use of White Spacing
One of the most overlooked and underrated practice in increasing UX through web design is the use of White Spacing. White Spacing or Negative spacing is the idle unused space that surrounds elements in a web design. Its use is highly effective in providing the ideal UX and usability to your visitors and customers for a number of reasons.
Helps create a breathing space between elements
Separates text and increasing readability factor
Allows merchants to emphasize on a particular element such as CTA
Works with color psychology of the web design
Helps Build hierarchy in website Layout with the rest of the elements
2. Set Simplicity as Your Goal
First off, your website is the main platform that advocates the online presence of your business. When customers come to visit it, they are interested in seeing and interacting with the content, not examining how trendy your website's design is. Yes, you need to keep it simple to make it sell. Everything on your website should have a meaning and purpose to its presence and placement. Adding unnecessary elements such as web functions, images, videos, graphics, blocks, filters, and overly complicated features can not only confuse your website, but also slow down its performance drastically.
3. Never Sideline Visual Elements
While adding unnecessary visual detail can be devastating to the UX and web design, its presence is also imperative. Textual details work in harmony of the visual elements of the web design and their absence can be damaging to the visitors of your website. To make sure your website has the appropriate amount of visual elements for an optimum UX, make sure you show them on the right place and the right time. For instance, add a good display banner on the landing page to engage the user first on site, show product images on products pages, add small instructional videos, show infographics and other graphical images that can be accommodated with space without compromising the website's speed.
4. Show CTAs On Your Website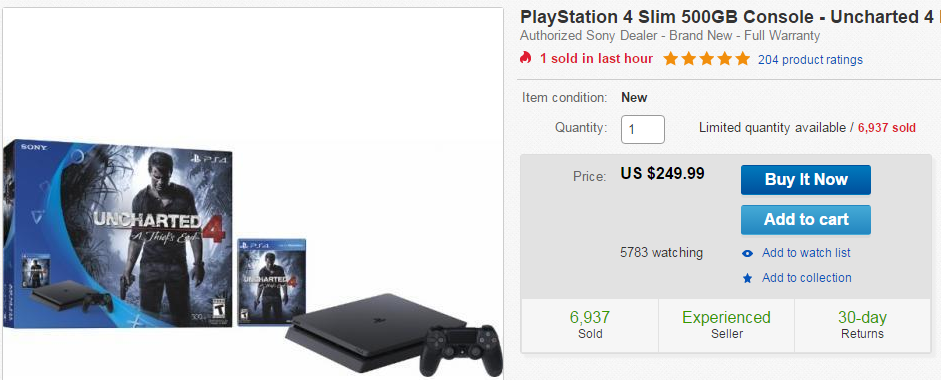 Just as shown on eBay Playstation 4 Slim product page, the "Buy It Now" CTA is blue colored for assurance and trust while the text length is short and focuses on the incentives first.
Any website that does not have CTAs is incomplete and unqualified to remain online for use. CTAs or Call to Actions are a combination of graphical elements, text, color and coding that form an instruction. When users see these CTAs it triggers a response and calls them to interact with it. CTAs are not only used for luring customers to checkout pages, but also help users save time on a purchase decision compared to visiting the product page separately. CTAs normally contain the most important part of the product description, or an Offer that helps customers acknowledge the importance of the deal. It fills the web design and provides the user with fast and hassle free means to purchase the product.
5. Clean and Consistent Navigation
Having a functional and fast navigation is important for providing a rick UX to your customers. Navigation not only helps in building a road map to your website, it also enhances the design, gives users direct access to products and guides them to their specified search. Here are a few useful tips for an ideal website navigation system.
Make a simple primary navigation structure with a strong and consistent hierarchy
Show navigation options in your header as well as the footer of your website
Show a search box on the top right or top left side of your web design
Add filters to help users breakdown their search according to their preferences
Introduce breadcrumbs to help users keep track of their path (use this only as secondary navigation)
Make a habit of adding links within your website content for a strong internal linking structure
6. Add a Comment Section
Allowing a source to show and add user feedback is no doubt the most effective practice efforts to improve web design, usability and UX of your website. A simple comment section on each product page allows users to see what other customers had to say about the product, while giving others who have used it the opportunity to express their appreciation or discontent. It not only reflects positively on your company, but also looks great with the layout if designed properly. If there is one thing that wins the customer's trust, it's another customer's word of mouth. You can either do it yourself or hire a reputable website development company for the task.
7. The Power of FAQs
Many users often complain about their insecurities regarding specific product features, shady store policies, payment gateways procedures and other things are left for the imagination of the user. FAQs or frequently asked questions are the perfect solution to this pickle. They are pre-answered questions that are most popularly asked by users especially who are new to ecommerce websites. They provide instant answers to nagging product questions so the user does not have to waste their time searching for answers or worse, abandon the page. A separate or dedicated page is assigned to FAQs so customers can easily find all their questions while a search can also be added for ever better search ability.
8. Make Your Website Mobile Responsive
Last but not the least, using a responsive or mobile friendly design for your website might be the best thing could do for enhancing usability and improving your customer's user experience. Since the influx of mobile technology, various types of hand held devices such as smartphones and tablets are on the large. Faster internet speeds, safer transactions channels and portable devices have made it possible for users to access internet from different locations without being connected to a wire or confined to limited space. But when this technology was made available on the palm of your hand, there were certain complications that forced website to dysfunction and remain unusable for mobile internet users. For one, the screen size caused issues with scrolling and scalability, while other elements such as CTAs could not be interacted or used due to their reduced size. The overall website speed also got compromised and raised several red flags to its performance. But thanks to responsive design, your website can now open on every screen size from desktop, tablets, smartphones and even smaller devices without causing issues with scalability, scrolling or usability. It also enhances the speed by reducing the loading time and giving an optimum UX to customers. Ignoring this practice can mean the death of your website in the long haul.
Similar Posts:
Tags: usability, user experience, UX, web design