Today i will talk about a small country, not many would have known or heard of! Its Andorra, sixth smallest country (principality) in Europe, tucked between Spain and France in Pyrenees mountains.  Andorra is one of the wealthiest nations in Europe. The currency Euro is used widely.  Spanish, Catalan and french are spoken commonly.   Andorra 100% fibre optic connectivity for internet communications. Andorra has affordable costs of living compared to Monaco, Liechtenstein or Switzerland. Renting a flat will cost from 600 to 1500 euros.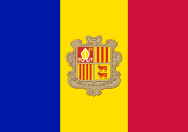 Most foreign investors seek residency in Andorra because of no personal tax, no wealth tax , 10% income tax, 10% corporate tax, no capital gains, no dividend taxes or estate duty taxes.
There are 2 ways to get residency in Andorra:
€50,000 deposit in Government bonds (refundable)
€400,000 business investment or real estate
Please note that Andorra is not a member of EU zone, Schengen.  Andorra passport is one the best passports in the world but it is extremely difficult to get. You must live atleast 20 years in Andorra to become a citizen.
Source: http://golden-investor-visa.com/andorra/
Similar Posts: