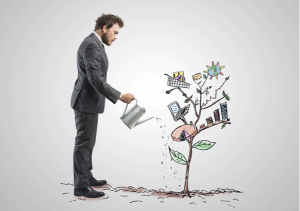 Whether big or small, every business enterprise is always on a look out for ways to improve its productivity levels by getting work done faster and with minimum cost to increase profitability.
Start-ups face various challenges such as the need to constantly improve the quality of their products and services and price goods in a way that maximize profits in an increasingly cutthroat business environment.
A decade ago, it was almost impossible for a small business to sustain with limited resources. However,  the scenario is gradually changing.  With evolving technology, new tools and software have now made it relatively easier for businesses to grow faster, and smarter.
Here's how cloud computing can help your small business evolve and grow effectively:
The cloud advancements and innovation
If your start-up is not on cloud yet, it's about time it shifted. Through innovation and advancement, cloud has effectively helped small businesses to not only exist in a highly competitive business environment, but also thrive alongside much larger and powerful enterprises.
In fact, more than 30 per cent of smaller brands are providing their services using the cloud based software. They have full access to advanced technology that allows them to compete in a much larger space; providing them with significant competitive advantages.
Cloud services are also being implemented by companies like OSF Global Services, which state: "For retailers around the world, we've been an important ally in transforming e-commerce." How did they do it? By hosting and offering cloud based services to organizations around the world.
So, the technology that was once reserved only for business giants is now attainable for small enterprises and it's making a big difference. Here are the 6 ways the cloud is of immense help to start-ups:
Data back-up and storage
Storage and data back-up are amongst the most common uses of cloud systems by small businesses. According to the AT&T poll, nearly 63 per cent of cloud users rely on these functions.
Any kind of online back-up and storage can help protect your company from unforeseen disasters and malware that can adversely affect premise hardware. Therefore, greater protection is usually offered by reputable cloud and IT service providers, since they save customer data on various servers in the cloud. In case one goes down, the other one retains it.
Cloud based backup can also support business growth. Services such as AT&T Tech Support 360SM Backup and Go, Livedrive™ and Carbonite™ offer scalable storage to accommodate additional employees and computers conveniently. Sophisticated versioning capabilities are also included in certain services, letting you retain and retrieve older copies of files.
Cloud is helping small businesses act like giants
Small businesses have now become much better equipped than ever to compete with multinational powerhouses in their sector. Size no longer matters and many tech advancements, once only available to big businesses, are now reachable extensively.
The firstlight PR agency, is one of UK's popular SMB's which has used its size as an advantage to compete with some of the largest firms in the field. Firstlight founder, Paul Davies, recalls the size being a presumed weakness. "But I soon realised it was our strength." The realisation gave him the confidence to take on bigger agencies front-to-front, vying for the largest brands and winning.
Improving collaboration
An addition to the cloud perks would be enabling remote staffers to work together in real time. Hence, if your work team is displaced in different locations, you can use a cloud-based document sharing device to pitch decks, update timelines and other files wherever you are – at home, in the office, or on the road using your smartphone.
Additionally, without having to buy costly conferencing equipment, you can easily take advantage of the web-based conferencing services such as AT&T Connect®, GoToMeeting and Cisco WebEx to connect with remote customers and suppliers through your mobile device or desktop.

Masked complexity enables access to services
Nearly 20 per cent of poll respondents consider this as an advantage, demonstrating its implicit potential. Since the complexity is hidden from customers, a company can fully expand its product and service sophistication without increasing the level of user knowledge necessary to maintain and utilize the product. Upgrades and maintenance, for instance, can be done in the 'background' without the participation of the end-user.
Furthermore, through its Cloud Print solution, Xerox enables its workers to get their desired content printed wherever they might be by accessing printers outside their organization. The cloud requires quite a bit of data management while printing, since numerous files are to be stored and converted to print-ready format. The complexity is, in fact, hidden from the users.
Cloud's cost flexibility
According to the Economist-IBM survey, 31 per cent respondents said they prefer cloud's 'pay as you go' cost structure; making cloud flexibility one of the first and most obvious reasons why companies are attracted to the system.
The cloud takes away the acute 'need' to fund the building of hardware, installation of software, or paying the dedicated software licensing fees. An online marketing place for hand-made goods, Etsy, made a similar appeal.
The company is able to cost-effectively analyse data from the one billion monthly views of its website and use that very information to create customer recommendations. Thus, the cost flexibility makes tools affordable for Etsy; a computing power that may be only buyable for bigger, better retailers.
Intelligent assistants are possible
The cloud allows your company to store user information and preferences, based on its expanded computer power and capacity; in turn enabling product or service customization. For addressing fragmented user preferences, more than half of the respondents on the Economist-IBM survey see this as a concrete advantage.
The authors, while observing the classic example of Siri, the cloud-based natural language intelligent assistant on the Apple iPhone 4S, found out that the system not only allows users to send messages, place phone calls, find restaurants and more, but it also employs artificial intelligence to get to understand a user.  In short, it leverages the computing capabilities to enable context-relevant, individualized customer experiences.
Get your start-up off the ground
Some businesses still have mixed feelings about cloud-based solutions. It's advantages,, nonetheless, prove that they are very effective, economical and can be integrated effortlessly into most business models.
As a modern-era business, you are probably facing incredible expansion of technology and opportunity side by side. With cloud computing, you can definitely get your business off the ground
without having to invest tons of money in software and tech. After all, there is not much a start-up owner can ask for other than flexibility, simpler implementation, increased web traffic and lower out-of-pocket cost!
Similar Posts:
Tags: Business growth