How to setup BSNL Dataone automatically connect to Internet when modem switched ON?
If you are using BSNL broadband in India and most of the time you will be connecting to internet using a username and password. You might be wondering why cant you connect to internet when modem switched on.
It can be easily done with few steps. All you need to do is to setup your DSL mode to work in PPPoE mode. In this mode once the DSL link is steady the modem remembers the username and password and auto connects to internet when switched on.
If you are using a username and password to connect to internet with DSL modem (like huawei) then that means you are most likely to be using Bridged mode. All you need to do is change this bridged mode to PPPoE mode in your modem control panel. This should work pretty much for modems supplied by bsnl or other third party modems.
Here are the easy steps….
1. Open your browser and point your browser to http://192.168.1.1/ to open your ADSL modem control panel. Type admin and password admin (in most cases).
If that doesnt give you modem access page,
Next is to set up IP address and DNS IPs. There are 2 ways of doing it.

(a) First you can go to router and enable DHCP and it will automatically assign IPs to PCs you connect. You have to also enter DNS server IPs of your ISP in the router.

and the other method is assigning static IP.

(b) Go to > Network properties > Internet Protocol (TCP/IP) > enter ip, subnet mask and gateway as shown below..

(i) Set the ip address of PC in range between 192.168.1.10 to 254 (any one ip) with subnet mask of 255.255.255.0 with the gateway address of 192.168.1.1 (modem as gateway to access internet)

(ii) Next set DNS IP address to BSNL DNS IP address or if you dont know BSNL dns server IPs you can use opendns dns servers lPs of 208.67.222.222 and 208.67.220.220 as an alternative to access internet.
Note: some modems use http://192.168.168.1/ for accessing control panel. Refer to your modem manual.
2. Once you get into Modem Control Panel, you will need to edit WAN settings of PVC0 with VPI=>0 and VCI=>35 for BSNL connection. Edit it and set to PPPOE mode. There enter your bsnl username and password. Just edit this and leave the other PVC connections.
Here i am using huawei modem control panel, supplied by bsnl.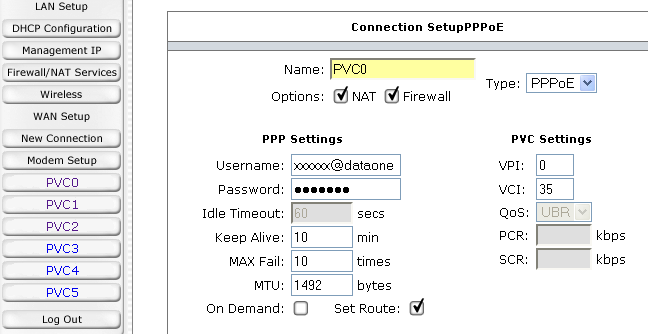 3. Change the default admin password for security reasons.
4. Setup wi-fi security using WPA for your wireless router.

Important: Dont leave your wireless router open. If you leave it open anybody walking by with a wireless laptop can have access to your internet connect without a password as soon as your modem is on. To prevent that secure your wireless router with a passphrase.
(i). Go to wireless setup > change SSID > home-wifi
(ii). Go to wireless security > select WPA > PSK string > Your password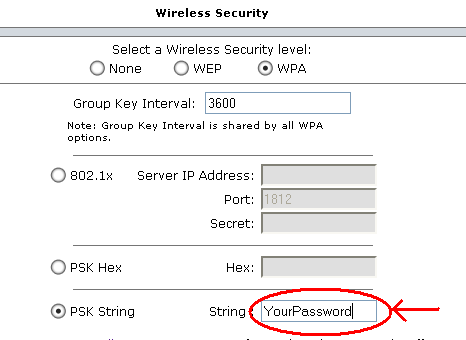 Use WPA is it is better in security than WEP encryption.
5. Save All and Restart the modem and PC.
6. To check connectivity try pinging both to router and websites. Go windows start > run > command
ping 192.168.1.1
ping yahoo.com
Once you switch ON the modem and the DSL link becomes stable, you should be able to access the internet. No need for username and password.
Plus if you own a nokia phone or ipod that supports wifi then those devices can only access internet though PPPoE mode (always on modem)
If you have messed up the settings or unable to internet, just reset the mode by restoring the default settings either through modem control panel or a reset hole at the back side of mode. Once you reset the settings, your modem will be back to bridged mode and you will be able to connect to internet using traditional way of broadband username and password.
References to Useful Tutorials
* Official BSNL Dataone Guide – Download [PDF]
* Dataone Configuration Guide – Download [PDF]
Disclaimer: Follow this tutorial at your own risk.
Similar Posts: