If you have a wireless enabled notebook/ipod, dont ever leave your wireless router wide open. Chances are anybody passing by can detect your wireless network and could access internet through your router. They could also possibly steal your personal information and misuse the internet on behalf of you.
Below are some of the very basic steps, that will ensure minimum security to your wireless router.
1. Change Default Passwords
2. Encrypt your Wireless network with WPA/WEP
3. Enable MAC address based blocking.
Change the Wirless Router Access Password
First change the router control panel admin password. To access control panel, point your browser to http://192.168.1.1/ and login with username admin and password the same. Refer to the router manual for default password.
If you cannot access the router control then
Go to > Network Connections > Select your LAN connection > Internet Protocol (TCP/IP) > Enter any IP address between 192.168.1.2 to 192.168.1.254 like shown below.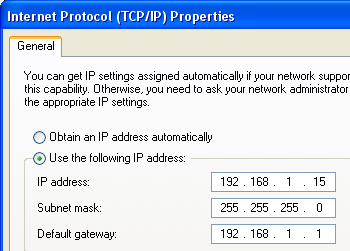 Once this is done, then point your browser to http://192.168.1.1/ and you will see a router login screen.
Enter it and change the admin password.
2. Encrypt your wireless network.
Login to your router control panel, go to wireless settings
(i) Change default SSID name of your wireless LAN to anything other than the default. )say xyz-wlan). Dont leave it to default name.
(ii) WPA/WEP Encryption.
There have been a lot of debate on whether WEP or WPA security is best for wireless network. Most say that WEP can be easily breakable and WPA is preferred. In either case you have to specify the network key as a password. You will be asked later when you connected a laptop to your wireless lan.
If you chose 64 bit encryption, then atleast 5 character password is needed of in case of 128 bits you will need to specify 10 character password.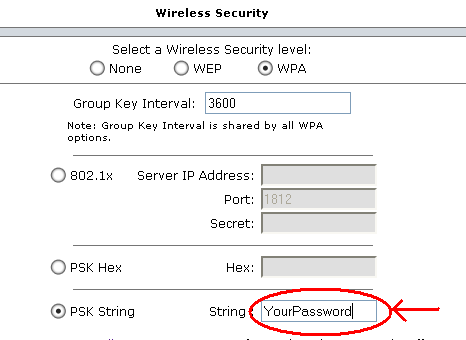 3. Enable MAC Address based filtering.
This method is a safe bet against any attacks as this setting will only allow specified mac addresses to connect  to  your modem/router. MAC addresses are very unique to each network or wireless card  and you will need to know the mac address for each of the devices you want access to internet.  It works very well at homes or offices where there are less than 10 PCs connecting to internet. Find out the mac address of those and hardcode it to your router so that only the specified mac address devices can connect to your router.
To find out the MAC address of your wireless adapter in your laptop, use this command
Start > Run > type command
ipconfig /all
Note down the wireless adapter MAC address which will be often separated by : or –
Go to DSL Router Panel > MAC Address > Allow > Type MAC address
In this way you will be able to secure your wireless modem/router. Good luck and happy new year!
Similar Posts:
Tags: secure wireless modem