I have been frustrated for months with my internet connection and i really hate to see internet getting disconnected often. I have searched all over web and there hasnt been much of documentation available on how to troubleshoot broadband related problems, so i have decided to compile a list of things here…
I have been using BSNL broadband over the years and though i have been quite happy with their service,  i have to say that all of problems  i had was because of faulty wiring ,splitter and modem.
First Proper Connections
First things first… The connections and wiring should be made properly as per the below diagram..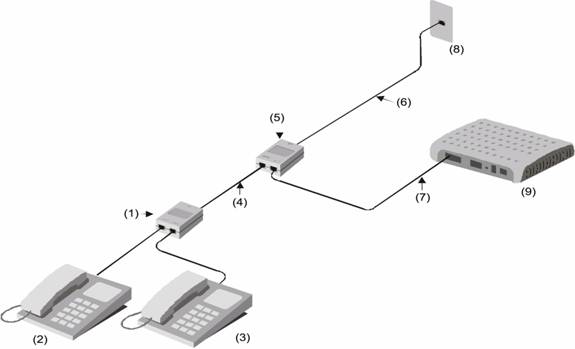 (1) Phone Socket
(2) Phone
(3) Phone
(4) RJ-11 Tel Cable
(5) Splitter
(6) RJ-11 Tel Cable
(7) RJ-11 Tel Cable
(8) Phone Jack
(9) ADSL Modem
then in your PC, always change the DNS server IPs to that of GOOGLE DNS or open dns which can be done by opening Network sharing > view status > properties > Internet protocol (IPV4) >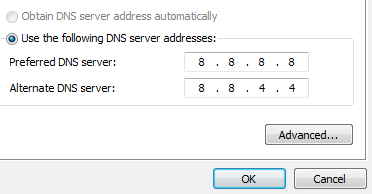 Source: Rajastan BSNL
Reasons for Unstable DSL or Frequent Disconnections
Very often you will see errors like "Connecting to WAN miniport or error 678/691" because of these.. The following are the most common causes for frequent line drops or disconnections..
Faulty ADSL splitter which is reason for over 90% problems.
Incorrect wire connections to MODEM (see above for wiring).
Too many joints in telephone line causing poor connectivity.
Faulty telephone line from the telephone post having too much noise and interference because of wind, moisture etc..
Faulty modem (may be overheated or faulty DSL jack in the modem).
Interference caused by nearby wireless devices.
Faulty Power adapter of MODEM.
Modem itself is faulty (on rare occasions)
NOTE:  Never connect any device before ADSL splitter
How to Fix the Problems
The good news is you can locate and fix the problems yourself, rather than long waiting for technician from BSNL. Just follow the steps and i have made it such a way that is easy to understand….
1. First take up your phone and see whether your hear a dialtone and phone is not dead.
2. Check the cables between your modem, splitter and modem and look for any connectivity problems in your telephone line.
3. Keep in mind that always the ADSL splitter should come first and then the phone and modem should be connected.
4. Check your ADSL splitter because i have seen in over 90% of the causes, splitter is the root problem. It may look ok from outside but you never know.  Always keep a brand new splitter as backup replacement because you never know when it will go faulty.  Buy a good quality splitter and each would cost about Rs 70. I have often seen that when i drop the splitter on ground, it would go bust, so just watchout and dont be lazy to change splitter!
5. Always keep your ADSL modem nearby the splitter and the length of cable between ADSL modem and splitter should be no more than 3 metres. If not you will be compromising internet speed. i have often seen that internet works without any problems with even 15m lengthy cable, but you will be giving up on speed.
6. Check your LAN or USB cable for any faults.
7. Check for you PC for viruses or worms which may cause problems with your router or modem. Try a different OS
Go to your modem settings by typing http://192.168.1.1/ for most modem types or use http://192.168.168.1/ and under ADSL status you have to take a note of the following ones.
If you cant reach either 192.168.168.1 or http://192.168.168.1 in your web browser then you have to make changes in your network settings  by opening Network sharing > view status > properties > Internet protocol (IPV4) >enter  your router IP in the gateway.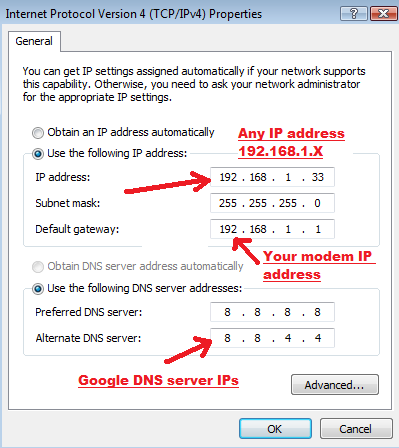 You can enter any IP address in the range of 192.168.1.XX (if your modem IP is 192.168.1.1) and subnet mask is always 255.255.255.0
8. Once you access your modem/router web interface you will be able to  find the SNR and attenuation values under DSL status page to locate where exactly the fault lie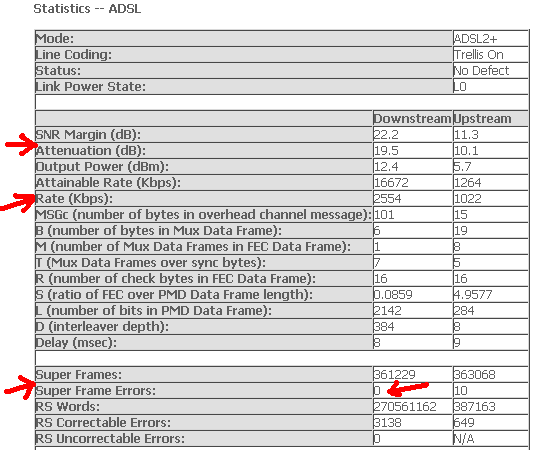 (i) SNR Margin
This means the signal to noise ratio. If the DSL is unstable then this value go below 8db or even in negative and it should never go low. The more lower the more faulty.
The value should have  atleast
Less than 8db or negative —> Poor DSL line causing to frequently disconnections
10db to 20db —> DSL may be unstable at times
20db or more —-> Good and stable line
30db+ —> Excellent DSL line
(ii) Attenuation
This parameter shows how much the loss of signal over distance and its value should be lowest as possible. Any value around 20db will do just fine.
(iii) Superframe Errors
This should be either typically 0. If you notice more super frame errors above 50 that means the packets are lost and you shouldnt too much pay attention to it. Just keep in mind that this value should have ZERO or the lowest value possible.
To interpret more parameters and their values, you can refer to this useful link.
File a Complaint with BSNL

Step 1: If you find the main telephone line is faulty, dead or having too much noise, then you have to call your BSNL telephone exchange and place a complaint there. The faulty line could be the main cause if you have frequent ADSL dropping or DSL not stable or keeps blinking)

Step 2: Call the bsnl broadband customer support and ask them to RESET the DSL and within a minute or so they will be able to do it.

see if this resolves your problem!
Useful Links for Troubleshooting Problems
Founder of Corpocrat Magazine and World's leading expert in citizenship and residence by investment schemes assisting wealthy individuals and families. He is the founder Best Citizenships (BC), CIP Journal and World Citizenship Council (WCC) .
Other interests include Linux servers, Machine learning,  Blockchain and Cryptocurrencies.