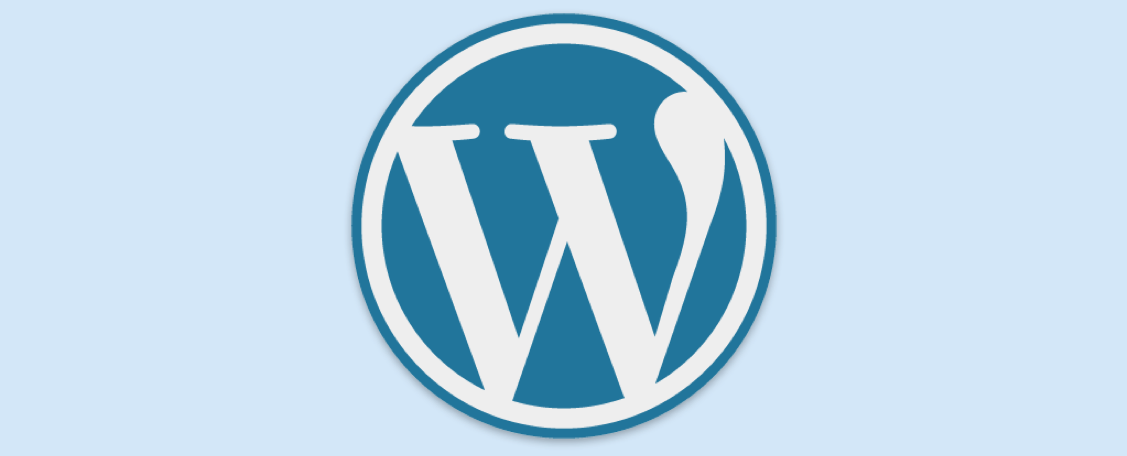 Setting up an online website, especially for business purpose is one of the crucial tasks. There are various factors that need to be considered while starting off an online venture. Having a professional looking WordPress site, along with simple and soothing navigation system lets you maximize the flow of web traffic and sales.
Despite advanced functions and appealing web design, a beautifully crafted custom form or contact form plays a pivotal role in giving your site a professional approach. Integration of a robust and user-friendly communication system using contact form lets your advertisers and customers to get in touch without, without any complexity.
However, embedding a fully functional custom form is not as easy as you think. It requires technical or programming knowledge. This means a beginner or non-tech savvy user won't be able to customize the contact form of their website, without any technical assistance or web developer.
Hold on! WordPress is a user-friendly CMS and therefore it offers a plenty of plugins both free and premium to let you build beautiful and engaging forms of your WP site. You can create custom forms without touching a single of code. Isn't it amazing?
With that in mind, we bring you the list of top quality WordPress plugin that can help you craft incredibly beautiful and functional custom forms in no time.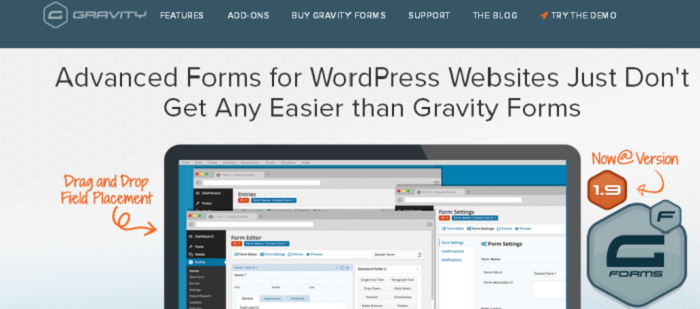 Price: $ 39 + per year
More than 17 million of websites downloaded this powerful premium WordPress plugin.
Gravity Forms is undoubtedly the best-selling WordPress plugin that comes packaged with a lot of exciting features and customization options. It allows users to build eye-grabbing contact forms, without even inserting a single line of code.
You simply need to choose your fields, configure your options, and embed forms on your site for creating custom forms. You can use it to craft forms for your E-commerce site and let your visitors submit articles through post fields.
It also provides several advanced features, such as schedule forms, pricing and post fields, multi-page forms, standard and advanced fields, and a lot more. It also integrates MailChimp, PayPal, etc to give rich user-experience to the potential visitors.

Price: Free
When it comes to creating a custom contact form for WordPress site, Contact Form 7 is one of the best plugins. With over 15 million of active installs, this plugin has become the widely-used free WordPress plugin on the web.
With this plugin, you can create, customize and manage multiple contact forms like a breeze. Even, you can alter the overall design of your forms the way you want, without any technical guidance.
It lets you modify the content of your emails using HTML – but this requires basic HTML knowledge. It also supports Ajax-powered submitting, Akismet spam filtering, CAPTCHA system to further consolidate the functions of your contact forms.

Price: Free
This is an incredible WordPress plugin that allows users to create secure web forms in a matter of few minutes. It aims at protecting your site from spam and other vulnerable activities.
You can use Fast Secure Contact form plugin not only to create, modify and publish forms, confirmation emails and develop multiple forms but also strengthen the security of your site by embedding secure web forms. It lets your visitors send you emails directly from your site.
It provides some of the advanced features including additional fields of any type, Akismet spam filtering and of course, CAPTCHA function to tighten the security of your site.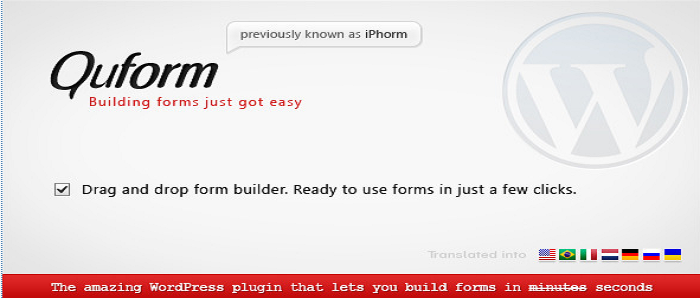 Price: $ 29
Quform is another powerful WordPress plugin that allows a user to build beautiful and professional web forms at the top of a hat.
It is a form builder that comes with a ton of stunning features to help you create and customize contact forms of your WordPress site. Creating complicated forms, quotes, and booking forms become super-easy with this tool.
Its form builder simplifies the process of creating, editing and publishing different types of forms with ease – as it comes with drag and drop and single-click functions to enables you to personalize forms in no time.
Moreover, it is a cross-browser compatible plugin that works smoothly on multiple browsers.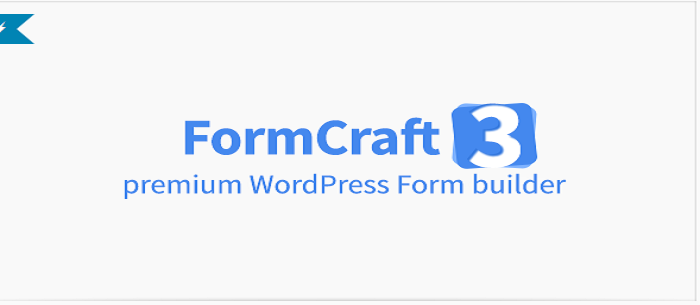 Price: $ 34
It is a premium WordPress plugin allowing people to build professional looking different types of forms for a WordPress site quickly and easily.
FormCraft comes with a user-friendly drag and drop form builder to let you craft responsive forms for your site, without any coding skills.
It is bundled with plethora of advanced features including form analytics, multiple form positions (such as pop up, sticky and fly in), over 20 special fields with retina display support, auto-saves form progress and much more.

Price: Free
Ninja Forms is an amazing free plugin for WordPress. It lets you create engaging and appealing forms with ease. You can even manage submissions using this plugin.
Create subscription forms or contact forms with the help of Ninja Forms plugin. It offers various innovative features which are impossible to find in other form plugins.
It comes with anti-spam field, optional Ajax, easy form creation, form preview mode, import & export options, and styling & layout options to let you elevate the functionality of your forms in minutes.

Price: Free
Jetpack is a multipurpose WordPress plugin, offering more than 30 different modules. You can use this plugin speed up your site, tighten its security or even integrate social media platforms. In fact, it also offers a contact form module that can help you build intriguing forms quite quickly and effortlessly.
The default form usually contains a name, email, comment fields and website. But you can also add some extra fields using a drop down options, radio buttons, and checkboxes.
However, Jetpack doesn't offer any advanced features, still it is a decent plugin for adding beautiful contact form within a site.

Price: Free
Formidable Forms lets you build powerful and eye-catching form within a blink of an eye.
It includes intuitive drag and drop interface to enable you to create customize forms with ease. You don't need to learn code for editing your default forms. It offers a variety of advanced features that saves all responses to the database for future recovery.
Note: Buy its pro version that starts at only $ 47. This version includes Signature integration, supports PayPal, and a lot more.

This plugin is developed by vCita.
It empowers you to embed three different of forms into your WordPress site. The first form is Active Engage that displays contact link at the bottom right hand side of your web pages. when you click on the contact link, a contact form or message will be displayed to the visitors.
The second type of form is a standard contact form for your pages, and the last option embeds a contact form to your sidebar. These two contact forms are simple and used by many site owners.

Price: Free
Visual Form Builder comes with a comprehensive drag and drop interface, along with a dozen of additional fields.
It enables you to add new fields within a single click of a button. You can even re-arrange them the way you want, effortlessly. Form submissions are saved in your WP database that you can export using a CSV file. You can also customize confirmation messages and add a text CAPTCHA verification system to prevent spam.
Note: It is also available in pro version, starting from $20 that features analytics, import and export options, email designer and conditional logic.
Conclusion
That's all.
These are 10 top quality WordPress plugins that can help you create custom web forms for your WordPress site without using a single line of code. So, choose the most suitable one and easily create the contact form, registration forms, email messages in no time.
Similar Posts: