Build up your own crowdfunding platform like Indie Go Go or KickStarter with an ease. WordPress crowdfunding themes are here to help you in this regard.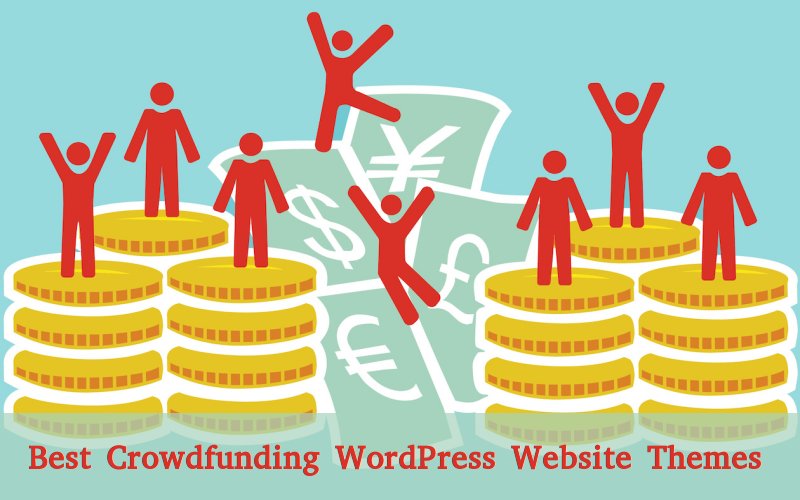 Introduction-
The idea of crowd-funding is quite famous as people find it the best way to raise funds for their projects, products, and different causes. Now, with the help of great crowd funding WordPress themes, you can create a dedicated site for fundraising. WordPress has made things easier than ever as there are many appealing themes available which are helpful in creating appealing fundraising websites. The main purpose of these themes is to enhance your fund-raising effort and build up an impressive platform to raise funds for various needs.
We have brought up an impressive collection of top 8 WordPress themes for making a crowdfunding website. Be it any purpose for crowdfunding, a well-designed website will surely make a different in your fundraising effort. These are amazing themes which encourage the creation of crowdfunding website easily, cheaply and rapidly.
1. Stellar – A Great WordPress Theme For Crowdfunding –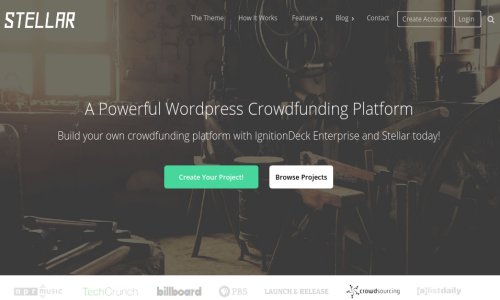 In the list of top 8 crowdfunding WordPress themes, we place Stellar at the first position because it is a professional, bold and advanced theme which is supported by IgnitionDeck Commerce and Crowdfunding plugins. It is a premium theme that is perfect for NGOs, businesses and all serious individuals who are aimed to make a self-hosted large scale platform for crowdfunding.
Here are the key features of Stellar that make it a powerful crowdfunding WordPress theme of the time:
Custom made content widgets – use them to make your homepage
Project grid crowdfunding display available on the homepage
CTA widget
Mobile responsive
Widget for features
Slider plugin
WooCommerce support
Simple colour customization
Thorough project page
All features like IgnitionDeck platform.
2. Backer – A Premium Crowdfunding WordPress Theme –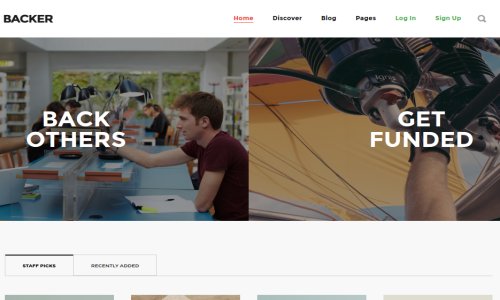 In crowdfunding WordPress themes, Backer is a brilliant theme which is perfect to make a fundraising website of your own. It is a clean theme that comes with the professional and minimalist design. It integrates several useful fundraising features which make crowdfunding easier for all. This theme is perfect fundraising solution for charity, technology, fashion, music and almost every other business.
Following are key features of Backer –
Integrates IngitionDeck plugin that comprises of several useful features of fundraising.
Modern and practice design for fundraising
Retina-ready and fully responsive theme
Project grid unique layouts
Custom made project sidebar and pages
Minimalist layout for blog
WPML support for easy translation
Shortcodes
Search widgets
Custom categories for project
Revolution slider
Countless crowdfunding project support
Front end submission
3. 500 Maximus – A Powerful WordPress Crowdfunding Theme –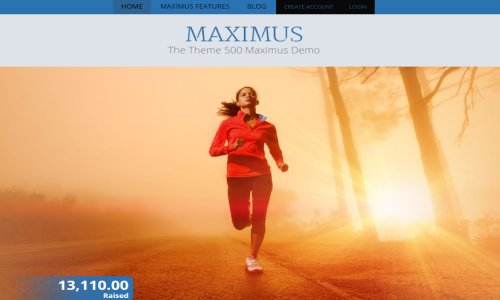 500 Maximus is a wonderful crowdfunding WordPress theme made by IgnitionDeck. This theme is basically made for creating single project fundraising websites. This theme can be called a child WordPress theme of 500 Framework which is a complete crowdfunding framework on WordPress which integrates Ignition Deck crowdfunding WordPress powerful plugin. So, 500 Maximus is a wonderful theme to design single project crowdfunding website that comes with following features.
Clean theme
Appealing colour options
Flat design
Robust choice of custom widgets made for designing an appealing site
Fully responsive theme
4. Fundify – An Exceptional WordPress Crowdfunding Theme –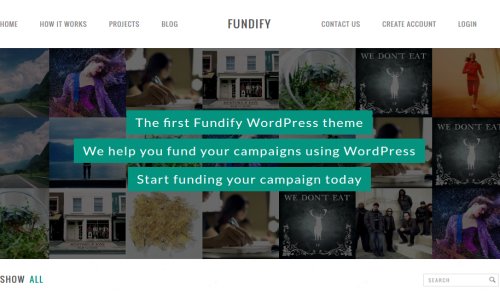 The theme Fundify is remarkable crowdfunding WordPress template which enables you to create a crowdfunding site on WordPress with an ease. It comes with a front-end form of submission which enables users to submit new fundraising campaigns without any hassle. In this template, there are options to set amount of fundraising goal, the total duration of the campaign and also, to add video and images to the campaign page. Moreover, there is also an option of administrator's permission to publish campaigns. Let's discuss the features of Fundify here:
Easy to use features
Integration to Adaptive PayPal payments extension
More than 20 payment gateways
Mobile responsive design
5. Fundingpress – Crowdfunding WordPress Theme –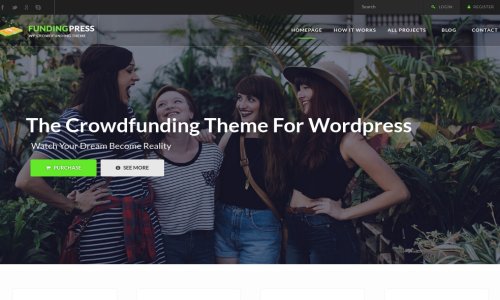 Use Fundingpress WordPress crowdfunding theme to make a fundraising website speedily and conveniently. This theme have many useful inbuilt plugins that eliminate the need of using any third party wordpress plugin to run a website smoothly. It is a feature-rich theme that come up with great features as below:
PayPal Adaptive Payments support
Option to choose the fund collection by admin or by users of the website.
Allows the admin to set the commission percentage for every project as desired.
Custom front end forms
Custom back-end admin panel
Fully customizable theme
Page Builder
Mobile responsive theme
Countless colour options
6. CrowdPress WordPress Crowdfunding Theme –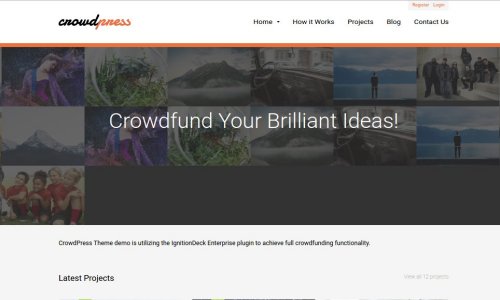 In the list of top 8 WordPress themes to design crowdfunding websites, CrowdPress holds a valuable place as it is a customizable and attractive theme of 2016. It is a premium WordPress theme which is supported by Easy Digital Downloads and Crowfunding free plugins. This ultimate theme is furnished with remarkable features which are as below:
Bold and wide design
Greatly customizable theme
Easily changeable fonts, styling, and colours
Support of Page Customizer that enables easy to change in layout as well as other hideable items.
Mobile responsive design
7. 500 Classic – WordPress Theme –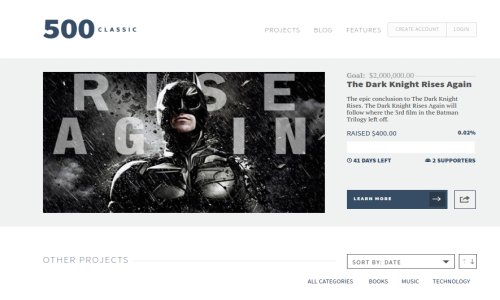 500 Classic is also a theme from 500 Framework. Just like 500 Maximus, it also gets the support of all the features available in 500 framework like the support of IgnitionDeck plugin. Other features that make it a great theme for fundraising websites include:
Large sized featured projects to show on homepage
A quality grid layout to show other projects on a site
This theme is also used to make the website for the single project for fundraising.
8. Mission – WordPress Theme For Fundraising Sites –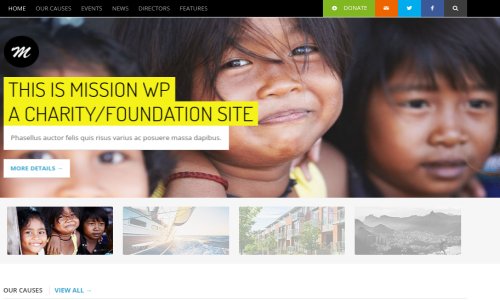 A powerful WordPress theme to build fundraising sites, Mission is loved by several fundraising projects. It is basically a mega church theme that is packed with several crowdfunding features and support. This theme is perfect to be used by churches or all types of non-profit organizations. This is a versatile theme that is loaded with some eCommerce inbuilt features that help to sell things and thus, encourage fundraising for various projects. Let's discuss the features you find in Mission to raise funds for your causes.
E-commerce functionality integrated to the theme
WooCommerce plugin support
IgnitionDeck fundraising plugin functionality
Unlimited color options
Google Maps support
Team Page
Fully responsive design
Events template
Several custom widgets
Final Words –
So, these are top 8 WordPress themes that all are perfect to be used to make attractive crowdfunding websites. These are premium themes that feature impressive functionality and great plugins to make fundraising an easier for fundraisers.
Similar Posts:
Tags: best crowdfunding wordpress theme, crowdfunding themes, WordPress crowd funding themes, WordPress themes for raising money