The fame of WordPress seems to grow with every passing hour. And, because of this ever-rising fame, every website wants to stand out on WordPress. Thus, they opt for WordPress theme customization to make their different from the others. As per the type of theme, you want for your WP site, you have so many tweaks and modifications which can be done. But, WordPress also gives you the facility to change the theme via WordPress Theme Customizer Plugins. It allows to you make changes to your site. Here is a list of the top 10 latest WP theme customizer Plugins, take a look:
Visual CSS Style Editor

An enhanced CSS editor that permits editing the site design live. It permits you to personalize any theme, without coding. You can adjust the colors, fonts, sizes, positions and so much more.
Customify

Customify allows developers to create enhanced theme-specific alternatives in the WordPress Customizer. It permits you to make presentations changes without editing the theme code. You can personalize colors, fonts, typography, text field, range and much more.
WP Theme Customizer by phpbaba

Supercharge your WP site with WP theme customizer and give it your theme a premium look. The front end options mode renders a beautiful and amazing look to your theme. You can use color palatte to change button, headings, body and links color.
Extend Theme Customizer

Extend Theme Customizer permits you to set theme customizer rom json file. It is open source software. It affects your text, text editor, image, color, date picker, post drop down, user drop down, layout picker and more.
Customizer Theme Switcher

The plugin aims to bring theme switching and theme browsing in the Customizer to modernize the theme experience. It executes most of what is there on admin page of the theme.
Customizr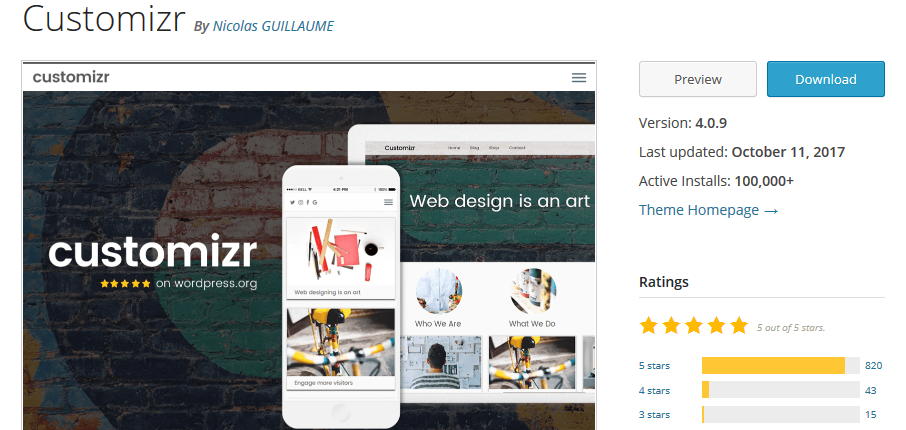 A simple to personalize WordPress theme, Customizr adds a professional look to your site. It permits you to create a quick, mobile friendly and amazing site theme which is compatible with all devices and browsers. It is a secure and reliable design option for your WP site.
TJ Custom CSS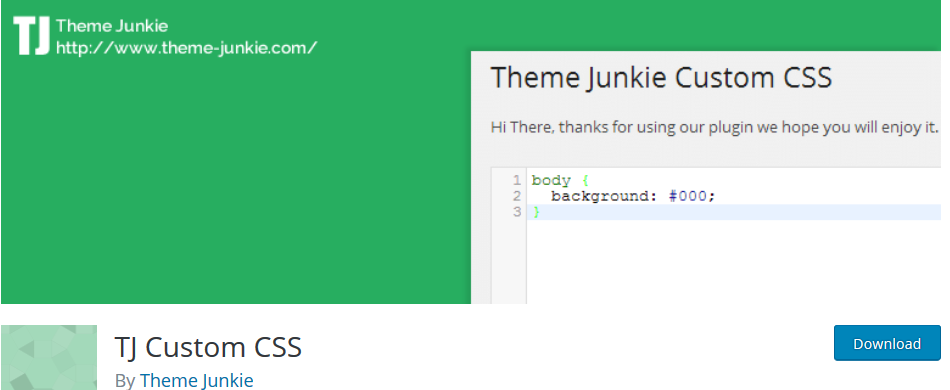 Crafted especially for developers to permit them to add their customized CSS specs to change the appearance of your site, the TJ Custom CSS is amazing. It allows you to customize the site rather than any plugin or theme CSS file.
Simple Customize

You can personalize your site with any customization and theme options required. It adds a new area to your Customize screen with input fields needed to display new customization option. All customizations are theme prone.
Yellow Pencil Customizer

A premium and feature rich personalization WordPress plugin, Yellow Pencil Customizer helps you customize combined plugin or change your theme appearance. It permits you to change alignment, font size, font, animations, borders, positions and a lot more.
Styles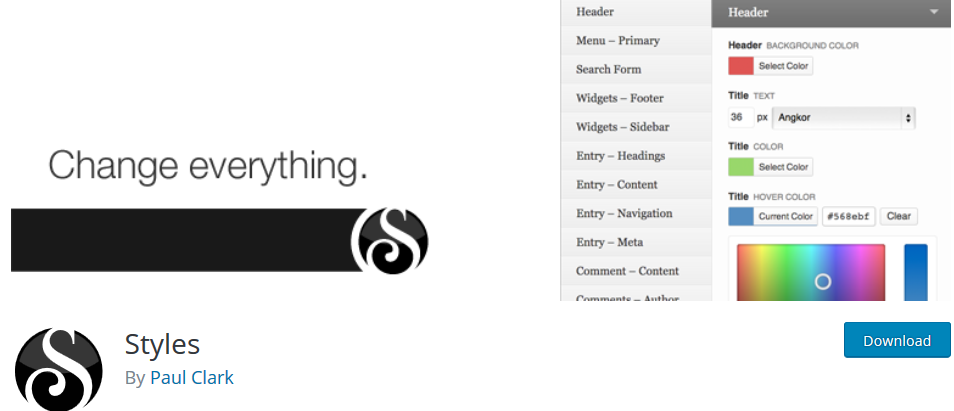 Famous WordPress theme customizer, Styles has all you require to personalize your site. It allows you to change color of the theme, style, font and do a lot more. You can check instant previews with over hundreds of customization options.
With these top 10 WP theme customizer plugins, you can make your site very beautiful, customized and amazing.
Save
I am Mark Wilson, founder of Mypsdtohtml web agency and an independent passionate front-end CMS developer, blogger and professionally leader who values Bravery, Commitment. We offer PSD to HTML, PSD to WordPress and all other PSD conversion services at Mypsdtohtml