The Turkish citizenship by investment (TCBI) scheme is one of interesting and affordable citizenship schemes in the world. You can immediately become a citizen of Turkey buying a property for $250,000.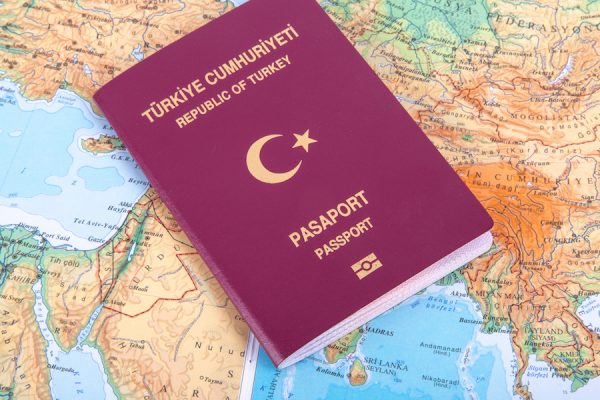 The Turkish Government first announced the citizenship for investment scheme through Article 12 of the Law No. 5901 promulgated on July 28, 2016, allowing foreign investors and their family members  given a exceptional naturalization to incentivize the economy.
The Turkish Citizenship by Investment (TCBI) scheme was officially launched after the new regulations published in the Official Gazette on September 18, 2018. When the scheme was introduced in 2017, Turkey required $500,000 investment in real estate, but in 2019, Invest Turkey has cut the investment by 50%, reducing to $250,000 for property investment.
Why Turkey?
Turkey is a huge $2 trillion dollar economy, hub of international trade bridging asia and europe.
Cheap and best citizenship by investment scheme.
No residence requirements
Lowest prevailing property prices due to depreciation of Turkish Lira
Turkish passport has visa free access to 110 countries.
Air connections to almost anywhere in the world.
Warm climate with mild winters.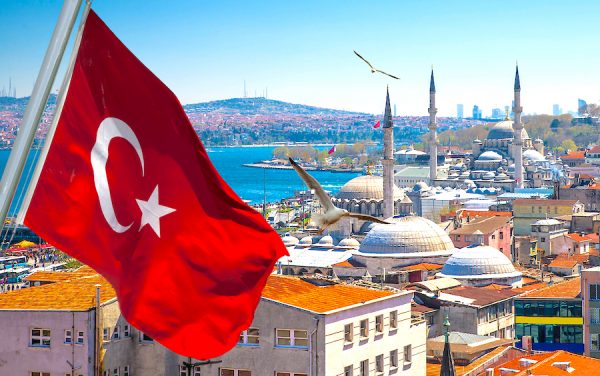 2019 Changes
In 2019,  Invest Turkey Agency has eased the Turkey Citizenship by investment (CBI) rules making application process efficient and faster.
Special joint offices, established in in Ankara and Istanbul, so that residence permit and citizenship application shall be obtained at once together
The residence permit and citizenship applications can be submitted together at private/common offices.
Investors first must buy a residential or commercial property anywhere in Turkey, then apply for residence permit or turquoise card before launching application for citizenship.
Turkish citizenship will be granted if the President rules for the acquisition of Turkish citizenship after Ministry of Interior (NVIGM) and National police checks applicants for criminal record, national security. All qualifying investors will receive residence permit, citizenship certificate and passport. All Investments must be maintained for 3 years.
Eligible Investments
There are six investment options under the citizenship by investment scheme in Turkey.
1. Real Estate
Buy a residential or commercial property for USD 250,000 or equivalent foreign currency or Turkish lira with a title deed restriction on its resale for at least three years. This has to be approved and attested by the Ministry of Environment and Urbanization
The real estate is the most popular route to the citizenship by investment program by foreigners
2. Capital Investment
USD 500,000 or equivalent foreign currency or Turkish lira, as attested by the Ministry of Industry and Technology
3. Job Creation
Created jobs for at least 50 people, as attested by the Ministry of Family, Labor and Social Services
4. Bank Deposit
USD 500,000 or equivalent foreign currency or Turkish lira in banks operating in Turkey with the condition not to withdraw the same for at least three years, as attested by the Banking Regulation and Supervision Agency
5. Government bonds
USD 500,000 or equivalent foreign currency or Turkish lira worth of government bonds with the condition that they cannot be sold for at least three years, as attested by the Ministry of Treasury and Finance
6. Investment Funds / Venture Capital
USD 500,000 or equivalent foreign currency or Turkish lira worth of real estate investment fund share or venture capital investment fund share with the condition that they cannot be sold for at least three years, as attested by the Capital Markets Board of Turkey
Turkish Lira
The Turkish lira has fallen by over 30% since the lira crisis began last year, making property prices cheaper and affordable, probably the best time to invest in turkish real estate market.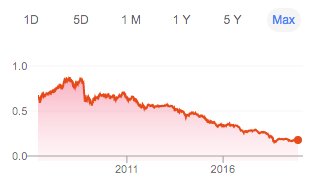 In Jan 2015, 1 USD = 2.35 TRY and exchange rate plunged, depreciated more than half to 1 USD = 5.73. So if you bought a property in 2019 it is more than twice cheaper.
E-1/E-2 visas
Turkish citizen eligible apply for E-1 (trader) and E-2 (investor) non-immigrant visas to enter United States.Turkish nationals get the most number of E-2 visas.
E-2 visa issuances have grown 49% in Turkey over the past three years. Many Turkish nationals are moving to Florida and California and investing in a wide array of franchises including gelato, fitness, coffee, and fast casual restaurants.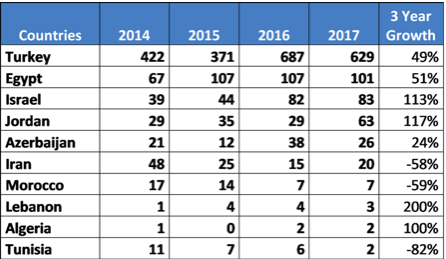 Turkish Citizenship Process
The Provincial Census and Citizenship Directorate issues the citizenship file and sends it to NVIGM.
The application will be submitted to the Office of the Minister to be sent to the President's Office if the archive investigation concludes positively.
An archive investigation is conducted on whether there are any impediments with respect to national security and public order.
Then it is sent to the Office of the President to obtain the President's decision. Turkish citizenship will be granted if the President rules for the acquisition of Turkish citizenship.
CBI Statistics
Turkey has approved over 3,600 applications since 2017. Over 1000 applications were approved in 2017/18 and a further of 2611 investor applications for citizenship in 2018/19.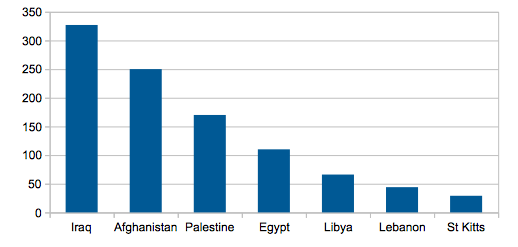 Iraqi's and Afghans lead the table for citizenship investor scheme who applied for 2018-19, according to the Interior ministry. This goes on to show Turkish CBI scheme is very popular in these countries. So far this scheme has failed to attract chinese investors and russians.
Iraq – 327
Afghanistan – 250
Palestine – 170,
Egypt – 110,
Libya – 66,
Lebanon – 44
St Kitts and Nevis – 29

 Saudi Arabia – 29

Azerbaijan – 28  

Pakistan – 26  

Sudan – 24  

Russia – 22

Algeria – 21 

US citizens 19 
Real Estate
Turkey is becoming a haven for for a number of gulf and middle east investors buying commercial and residential properties
What are the purchase costs involved in buying real estate?
Title Deed Fee is 4 %. Both the purchaser and the seller are liable to pay the title deed fee as 2 % of the price of real estate (except Value Added Tax). However, according to the President Decision dated 21/03/2019 and numbered 843, the total rate of Title Deed Fee is 3 % until the date of 31/12/2019. Both the purchaser and the seller are liable to pay the title deed fee as 1.5 % of the price of real estate (except Value Added Tax). After getting your title deed, you should inform the municipality affiliated to your real estate location about your property tax.
VAT exemptions for property owners who buy a Turkish property but do not live in Turkey, on a condition that they pay for the property with foreign currency. Home buyers must also hold the property for 12 months after purchase and 3 years in case of citizenship.
Stamp duty for "promise to sell agreements" reduced to 0%, from 0.95%.
Property prices
The per square meter prices to buy apartments in the city center are below, according to Numbeo latest 2019 data.
Istanbul – $1500 / sqm
Antalya – $565 /sqm
Ankara – $770/sqm
Bursa – $637/sqm
This means you can buy 100 m2 flat in the istanbul city center for around $150,000. The apartment rentals in istanbul city center average around $350 for a single room and $650 for three room flat.
Where are foreigners buying properties in Turkey?
According to Turk statistics office, In August 2019,  a total of 3 604 houses were sold to foreigners. ?stanbul was the first province with 1 549 sales, Antalya with 656 house sales, Bursa with 228 house sales, Ankara with 213 house sales and Yalova with 169 house sales.
Iraq citizens bought 675 houses from Turkey in August. The followers of Iraq were Iran with 469 house sales, Russia with 212 house sales, Kuwait with 159 house sales and Germany with 149 house sales.
Turkish Passport
All Turkish citizens are issued a biometric passport valid for 10 years.   As of 2 July 2019, Turkish citizens had visa-free or visa on arrival access to 110 countries and territories. These important countries include Japan, South Korea, Brazil, South Africa, Montenegro, Panama,  Thailand, Ukraine, Singapore, Malaysia,  Hong Kong etc.
Turkish passport has visa free access to these CBI countries: Vanuatu, St Kitts and Nevis, Dominica, Antigua, Montenegro.
Please note, it is important to understand that turkish citizens do not have visa free access to US, Canada, United Kingdom, EU schengen states. A separate visa needed.
FAQs
1. Is this a fast track citizenship by investment scheme?
Yes, it is a fast track citizenship scheme, where investors are waived residence conditions, language skills and other criteria.
2. I bought a property before 2018, can i apply for turkish citizenship under investment scheme?
The TCBI scheme was entered in Gazette on 18.09.2018. If you have bought the property one or after this date, you can apply for citizenship.
3. Can family members acquire Turkish citizenship along with investors?
Yes, spouse, children under 18 may apply.
4. What is the total processing time until Turkish passport?
Please allow 4-6 months for residence permit, citizenship and passport.
5. Do you have to visit Turkey in person for the citizenship process?
Yes, you have to visit once for biometric prints and signing of documents. Other procedures can be handled through power of attorney to handling lawyer.
6. Does Turkey accept all country nationals under citizenship scheme?
No restrictions, but turkish authorities in some cases may not accept nationals from Iran, North Korea, Sudan, Somalia, Syria. Please contact us to know if you are eligible.
7. Can i buy multiple properties jointly for $250,000?
Yes
8. Can companies buy Turkish properties?
Yes, but do not qualify for citizenship scheme.
Companies established in Turkey as a legal entity are considered under the category of foreign-owned companies in accordance with the following conditions:
• Foreign investors hold 50% or more of the shares, or
• Foreign investors are entitled to appoint and dismiss the majority of the board of directors
These companies may acquire property and limited rights in rem in order to engage in activities set forth in their articles of association. For this purpose, companies are required to apply first to the governor's office where the property is located.
9. Does Turkey allow dual citizenship?
Yes. Turkey allows dual citizenship for investors,  but your home country may not allow it. Please check the list of countries.
10. Do i have to open bank account for investments in Turkey?
Yes, it is possible to open account in Turkey with tax number.  Our attorney will help you with this process. It also can be done through power of attorney (PoA) as well.
11. Are there any restrictions on foreigners buying property?
Foreign nationals do not need to have a residence permit as a pre-condition to acquire real estate in Turkey.  A natural person of foreign origin may acquire real estate and limited rights  anywhere in Turkey of up to 30 hectares. The Cabinet of Ministers may grant larger areas if deemed appropriate, Natural persons of foreign origin may not acquire and lease real estate within prohibited military zones or military security zones. Total acquisition by natural persons of foreign origin may not exceed ten percent of the total district area where private property is allowed
12. What are the rental yields?
Airbnb is the best for rentals for city center properties. You can rent it for $50-$100 per night depending on the size of the flat. Rental yields are quite low in Turkey at the moment betwen 2-3%
13. Can i get finance, loan to buy a property?
Yes, but turkish banks do not give loans to foreigners
14. Can i vote becoming a Turkish citizen?
Yes, you will be given equal opportunities with turkish citizens including right to vote and holding government offices for investors through TCBI scheme.
15. Does Turkey notify about citizenship to other countries?
Turkey does not publish names of citizens in Gazette. It is not notified to other countries.
16. Can i apply for permanent residency if i buy property?
Yes, you can apply for permanent residence permit valid for 5 years, if you feel citizenship is not a necessity. Short-term residence permits are issued to property investors for a maximum of two years as a principle. A residence permit is invalidated if it is not used within six months.
17. Is Turkey is part of Europe?
Turkey is positioned 95% in Asia and 5% in Europe in land area.  It is important to understand Turkey is not a EU member state and not a member of Schengen area, but participates in the EU customs union. Turkey has been an applicant to accede to the EU since 1987, but since 2016 accession negotiations have stalled.
18. Is it possible to buy property using bitcoin?
Yes, bitcoin is widely adopted and used in Turkey
19. Is Turkey listed in OECD blacklist of CBI/RBI schemes?
No, but other 8 CBI countries are listed, at the time of writing this article.
20.  Does Turkey participate in automatic exchange of tax information through CRS?
Turkey is the 88th country to sign the Multilateral Competent Authority Agreement on Automatic Exchange of Information. The CRS applicable from July 1 2017
Please contact us for a free private consultation. We work with trusted law firms in Turkey.
Founder of Corpocrat Magazine and World's leading expert in citizenship and residence by investment schemes assisting wealthy individuals and families. He is the founder Best Citizenships (BC), CIP Journal and World Citizenship Council (WCC) .
Other interests include Linux servers, Machine learning,  Blockchain and Cryptocurrencies.